Products:
---
We manufacture a variety of labels.
Soft satin care & content labels.
Legally you require certain details attached to your apparel products.
These can be fibre content, country of origin, fire warnings.
You may also want to add information such as size and age details, wash instructions etc.
We can also add your branding to the same labels.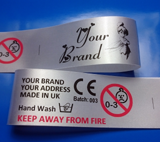 Small toys, soft toys and things like sock puppets may require you to add CE labelling details. CE self certification is possible, you need to discuss this with your local Trading Standards Office who can advise you on labelling for your specific products.
Details may include your company contact and address, batch numbers, age warnings, fire warnings, material content. Your batch numbers can be added as sequential numbers so you have a unique number on each label.
We can make these as small as possible for your small toys - typically 15mm wide satin and whatever length suits your items and the amount of information required.
Sorry we cannot advise on the content for your labels, but once you know what you need, please drop us an email and we can send a design back straight away for you.
Our printed labels are EN71-3 Toxicity tested and we can let you have a copy of out test certificate for your records, so you can add them with confidence to your CE labelled items.
We offer a lovely choice of name labelling products.
All very durable quality materials.
Traditional sew in labels for garments
Iron on labels for garments
Waterproof adhesive labels for items such as shoes and school equipment