26 Apr

Creating a care label for your fabric clothing

With all the excitement of developing and making your products buying care labels for your fabric clothing, crafts or toys, probably won't be the first thing on your mind. However, it will invariably be a requirement if you are bringing your goods to the market. You might think about branding first but there are several other things you need to consider when selling and labelling clothing items.
Fibre content
Country of origin
Care instructions
Flammability (especially if you are selling children's clothing/nightwear)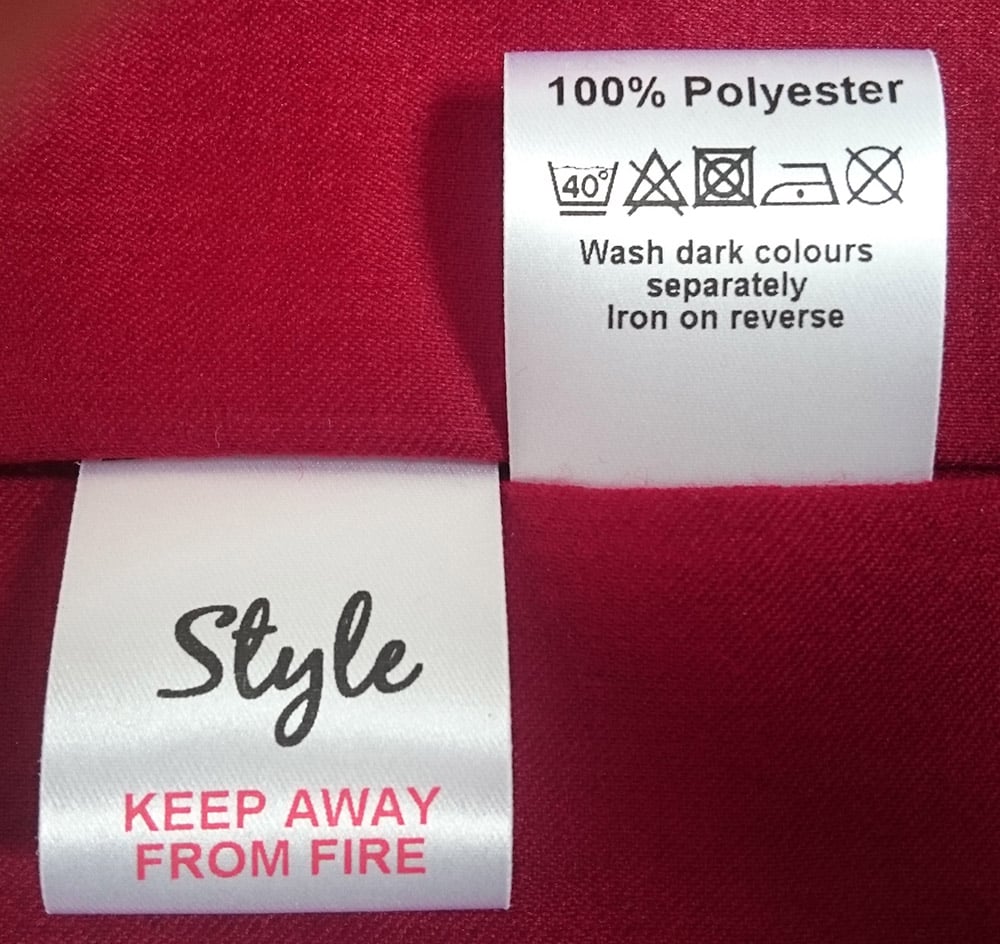 Fibre content
It is important to know your fabrics. UK legislation requires the main fibre components of clothing to be clearly displayed in percentages e.g. 100% Wool or 90% Cotton, 10% Polyester
A Guide to Textile Labelling Regulations – These regulations state that all information must be understandable to the customer so if you are selling into a variety of countries, other than the UK, you may need to consider multiple language translations.
Country of origin
It is not compulsory to display the country of origin within the EU but trading regulations often insist that this is a requirement in order to ensure that the customer is not misled by where products have been manufactured.
Customers are increasingly concerned about where their products come from so adding "Made in UK" or "Made in Britain" to your labels could be a good marketing tool.
Care Instructions
Care instructions are not mandatory in the UK. However, it is encouraged and is a good idea if you want your fabrics to continue to look good after purchase. After all happy customers are often returning customers. It may not be immediately obvious to them how they should look after their clothing so clear, concise care instructions can be very useful.
It is the general convention to include 5 care symbols:
Wash temperature / type (e.g. f 30°C cool wash)
Bleaching options (e.g. 9 Do not bleach)
Drying options (e.g. 1 Cool tumble dry)
Ironing temperatures (e.g. + Medium iron)
Dry cleaning options (e.g. , Do not dry clean)
You should include symbols that are appropriate for your fabrics. Consider the maximum wash / tumble and iron temperatures your fabric will take (e.g. If you have a synthetic fibre blend then cool settings will probably be the most appropriate). If your garments are made from fabric that is likely to distort when washed (e.g. heavy knitwear) then you could consider including instructions to dry flat or reshape whilst damp. Although not always necessary, adding extra instructions in wording can be very useful for your customer.
If you are unsure of the symbol meanings and there use here is a useful link to help explain everything: www.care-labelling.co.uk.
Flammability
This is an important consideration if you are selling children's clothing and nightwear. You will need to comply with certain flammability standards (including BS-5722) depending on the type of garment you are selling. Here is a link to the relevant safety regulations: Nightwear (Safety) Regulations 1985
KEEP AWAY FROM FIRE will need to be displayed on your care labels in a clear, bold font in red text (10pt in size).
We hope you have found this information useful. We are happy to help. If you have any questions about fabric clothing labelling please contact us and we will get back to you as soon as possible.
All of our labels are custom made to your requirements so we can add whatever information you need. Don't worry if you need to fit a lot of wording on. We don't limit the amount of text you can have and we'll adjust the fabric label length to fit. Please take a look at our website where we have a variety of different label styles for you to choose from. Just let us know what you need and we'll produce a design layout for you.
Care labels enquiry form