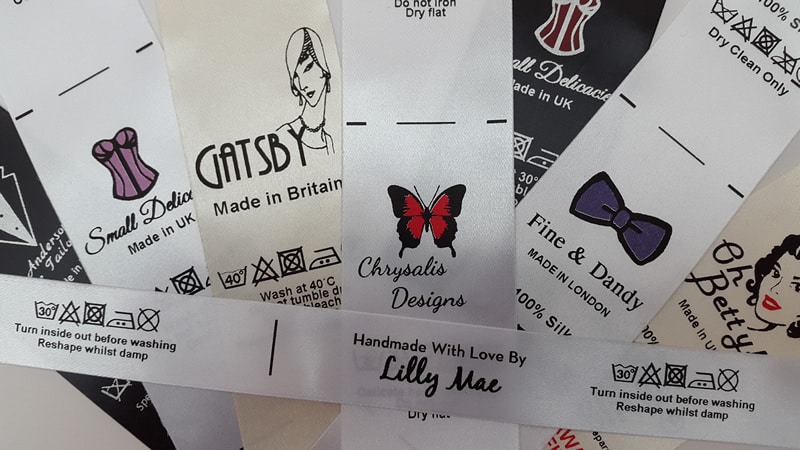 15 Aug

Garment care labels with a custom design

We get many emails and enquires asking if we can create and print custom garment care labels. The answer is always yes!

Some of the common questions we get asked:
Can you print single or double sided garment care label? Yes we can print both sides.
Can we add our own logo? Yes you can.
Can you deliver quickly? Yes we can.
Use the enquiry from to order garment care labels? For more help and assistance you can look at our 3 steps to creating your perfect care label page.
Garment care labels with your own design and logo
You can choose your own custom garment care label:
Label Style – This can be loop-fold labels supplied on a roll. You cut the garment care labels as you need them and fold in half to make the loop. Or single and double sided printed labels.
Fabric Colour – You can choose from white, cream or black. All care labels are made from soft polyester satin ribbon.
Ink Colour – There are a wide range of pantone colours available. The full colour range is available on white and cream fabrics but only silver and red printed on black fabric.
Garment Care Label Suppliers
We are a Yorkshire (UK) based care label supplier with over 20 years knowledge and experience printing custom garment care labels.
Take a look at the printing process for sew on labels. It shows a short video how we print your soft satin garment care labels. It allows us to produce short runs of sew on labels with the minimum amount of waste.
We are reliable and 100% trustworthy. We are garment care label suppliers with excellent customer feedback. Especially for our quick turnaround. Usually shipping your garment care labels within 24 hours!
Care Label Design
For over 20 years we have been producing custom made sewing labels in the UK. You can see in the image below the different variety of garment care label designs we have printed. All you need to do is send an enquiry form providing some details about the custom garment care label design you require. And let us do the rest.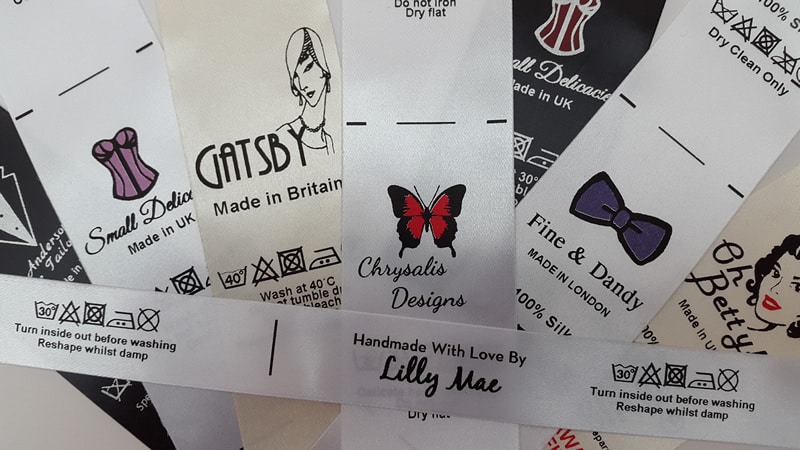 Order your Garment Labels from the UK
Order your garment labels today and we will ship anywhere across the UK, Europe and the rest of the World.
We can usually get your garment labels in the post the same day for delivery across the UK the next day! That's why many customers choose us as their preferred garment care label supplier in the UK.
We use local suppliers for our fabric and ink thus reducing our carbon footprint as much as possible. All of our label fabrics and inks have been independently tested for toxicity (EN71-3:2013). We can supply a certificate upon request.
Questions?
Got any questions about our garment label printing process? Complete the online enquiry form or use the quick form below. We'll get right back to you.