30 Aug

Fabric Care Labels UK

Our fabric care labels are made from soft polyester satin ribbon and locally sourced within the UK. Our fabric supplier is just 4 miles from our office. You can be confident that your new fabric care label will be perfect for your garments, craft projects or soft toys.
Branded fabric care labels UK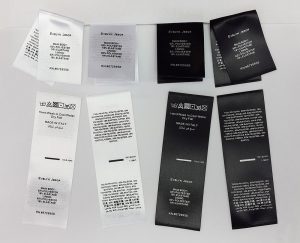 You can create your own branded care label with your logo and business name. We can print just a hundred labels to those wanting thousands of fabric printed labels for designer garments.
We deliver across the UK and can usually aim to have your fabric care labels delivered the very next day. Or at least within 24/48 hours.
Size tabs
From branded care labels with a business logo and name we can print size tabs on our fabric care labels. All the size tabs are custom made to your exact requirements. From XS to 7XL, the choice is yours.
Fabric colours
You have a choice of 3 fabric colours. Your fabric label can be white, black or cream. There's a wide choice of pantone colours available when printing on white or cream fabrics. If you are wanting to use black fabric for your care label, you have a choice of white, cream or silver print colours only.
To start creating your fabric labels, follow the link to read the 3 simple steps to creating your perfect label or use the enquiry form at the bottom of the page. We are more than happy to answer any questions you may have and offer guidance on CE labelling.
Over 20 year experience
We've over 20 years experience in fabric label printing in the UK.
We deliver across the UK and deliver to the EU and the rest of the world.
Fabric labels for CE labelling
CE labelling is required for many products including soft toys. We use local suppliers for our fabric and ink thus reducing our carbon footprint as much as possible. All of our label fabrics and inks have been independently tested for toxicity (EN71-3:2013). We can supply a certificate upon request.
Questions?
Got any questions about fabric care labels? Complete the eqnuiry form below. We'll get right back to you. Or for immediate assistance call us on the number (during normal office hours).