04 Apr

Custom made sewing labels in the UK

Carelabels is a West Yorkshire (UK) based company and we specialise in the manufacture of printed sewing labels for use on clothing and other fabric items. We have a wide range of customers from large fashion houses to home crafters based in the UK, mainland Europe and world wide.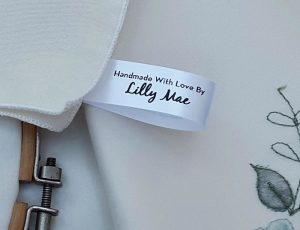 Since starting the business in 2004 we have worked hard to develop our products and customer base. Customer service is extremely important to us and we aim to provide the same high standard of service for all of our customers whether large or small.
If you just want a few labels for your sewing and craft projects we are happy to help. We often get compliments from customers saying that our labels have given a lovely finishing touch to their items. You never know a few gifts to friends and family might lead to a whole new business.
Design and Create Your Sewing Label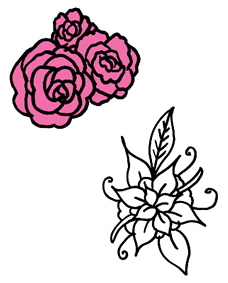 All of our labels are custom made to your requirements. If you send us your ideas we will work with you to design and create a label that exactly suits your needs. Don't worry you don't need to be a design expert. You don't need to send us a full label layout. Just tell us in words what you would like on your sewing labels and we will generate a design layout for you. If you have a logo of your own that you would like to use please send it to us so that we can check whether it is suitable for printing. Simple, graphic images work best. Bear in mind that what looks good on paper may not translate well to fabric. If you include too much fine detail it can often get lost in the fabric weave. This is also the case with some of the finer script fonts so you need to consider this when choosing your font styles. Definition can sometimes be lost, so bolder is better.
Add a Logo and Colour to Your Sewing Label
If you would like to add a logo but don't have a design of your own just give us an idea of the type of image you would like. We have hundreds of images on file so can usually find something suitable.  We'll send you a selection to choose from. For all you crafters out there we have sewing machines, needles, yarn balls, crochet and knitting images. If you see something you like on our website just point it out and we can add it to your design. We can add up to 3 ink colours on your label and a lot of our images can be filled with colour. This means that if you use any of our stock images you can still add a bit of individuality. All of the available colours are shown on our website.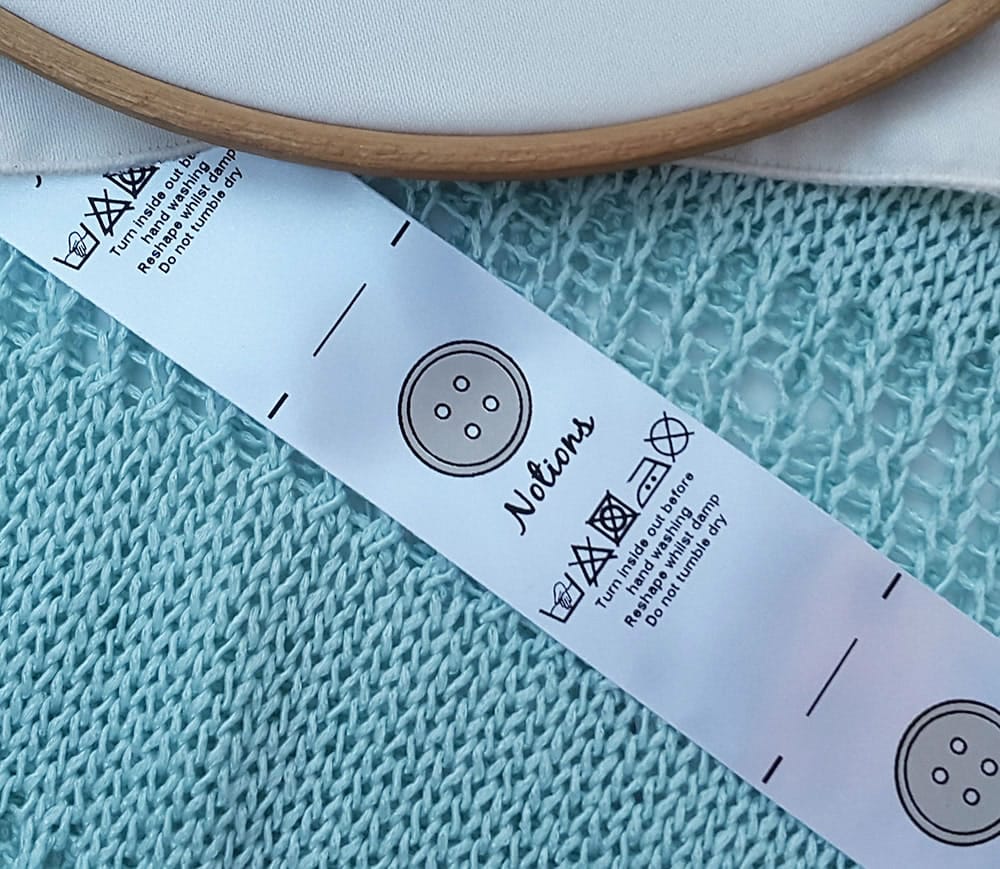 Sewing Label Printing Process
We use a digital printing process with a computer based design package. This enables us to produce short runs of labels with the minimum amount of waste. This also enables us to have a very quick turnaround and we can often despatch your labels within 24 hours of design approval. This has proved to be very popular with our customers and is often commented on in their feedback. All of our labels are printed on site in our UK office which means we have complete control over production and quality.
Regardless of whether you need 1000's of labels at a time or just a few labels for craft or sewing projects we will always keep each design on file for you. We can easily add to or amend your designs. There is no need to worry if you want to make last minute changes or simply want to expand your label stock as your business grows. Our ability to produce small runs of sewing labels quickly means you can regularly assess your requirements for different products and just order when needed rather than having to plan far in advance.
Sewing Label Fabrics and Colours
We use soft polyester satin fabrics to produce our sewing labels. We like to provide a label quality that is as flexible as possible for our customers. Obviously if you are producing children's clothing you don't want a harsh, scratchy label and this is equally true if you are producing lingerie. There is little point in adding your branding if the label is immediately cut out because it causes discomfort.
We stock 3 label fabric colours (white, cream and black) in a variety of widths from 15mm up to 45mm. As already mentioned we have various ink colours for you to choose from.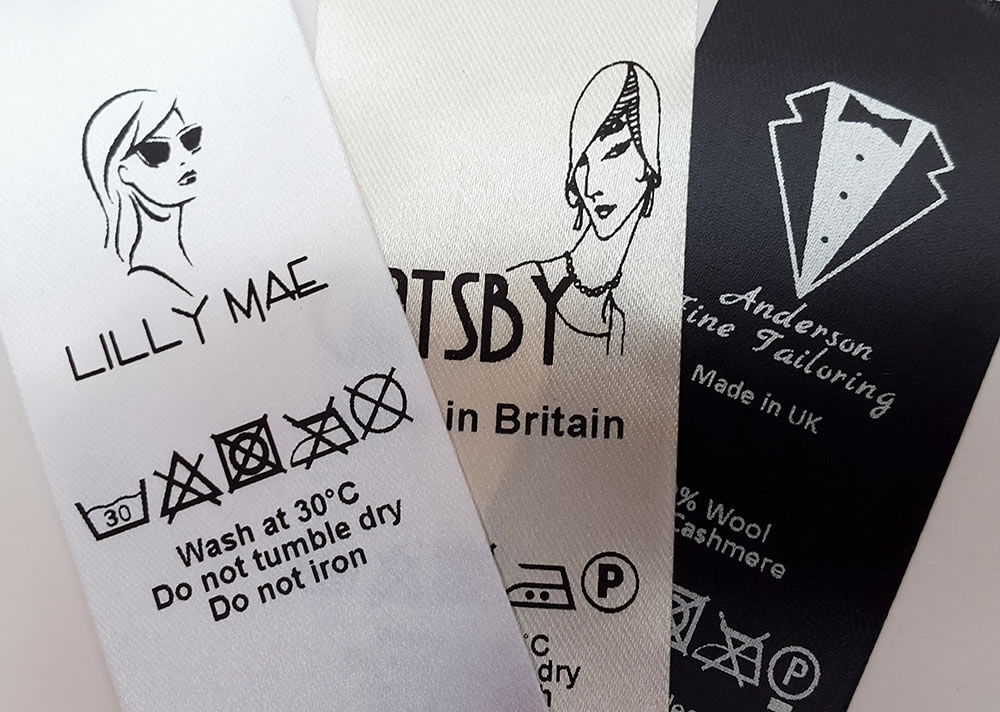 Sewing Labelling Requirements
A lot of our customers opt for black text and then add a little colour to their branding. We can add red print if you need to include safety warnings. This will be important if you are labelling children's toys and some clothing. If you require CE labelling and sequential batch numbers for trace ability we can add those too. Here is a link to government guidance Gov.uk website which you may find useful.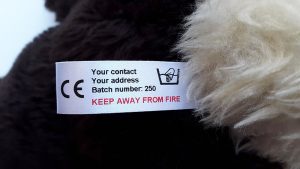 If you are selling items on a commercial basis you will need to meet certain labelling requirements. You will usually be required to add fibre/fabric composition but may need to add extra information according to the type of product and where you intend selling to. You may not be aware of this if you are just starting out. Your local Trading Standards office will be able to advise exactly what is needed. Here is a useful link giving labelling advice Textile Labelling Regulations from the Department for Business Innovation & Skills.
If you would like to add washing instructions just tell us what you need in words and we can add the relevant textile symbols. If you are unsure of the meanings here is a useful link www.care-labelling.co.uk
Sewing Label Style
The majority of our customers come to us for a combination label. They like to include care and content information, their brand and sometimes size details. This means less sewing and all relevant information is shown on one neat label. However, if you have multiple products or fabric types and want individual labels for care/content, branding and size we can provide those for you.
Once you have chosen your fabric colour and width the print details are entirely up to you. You can add as much text as you need. We will adjust the label length to fit accordingly. The label style will depend entirely upon your requirements too. We have a number of options.
Loop fold labels – are designed for you to fold in half and sew both ends into a seam (10mm sew space is included on each end). We usually supply these un-cut on a roll so that you can cut off and use as needed. These will need to be sewn into a seam to avoid fraying. We can also supply a cut and sealed version if this is more suitable for you. The design is divided on the label so that, once folded, you have a front and a back. Generally our customers request their branding on the front of the label and care/content on the reverse.
Single and 2 sided labels – are supplied cut and sealed. This avoids fraying and means that you only have to sew in one end of the label. 2 sided labels are useful if you need to include a lot of information. You may need to add multiple language translations for fabric composition and this can result in a lengthy label. We can provide booklet format labels in order to keep the label length to a minimum.
End fold labels – can be supplied un-cut on a roll. Your design will be placed in the centre of the label (usually in a horizontal format) and we will include 10mm sew space at each side. You then fold each end under to give a flat, single sided label. You will need to sew both ends to avoid fraying. We can also supply a cut and sealed version if you prefer. This type of label may be a good solution if you want to add some obvious branding to your items or important safety information that needs to be immediately visible.

Contact Us
If you have decided on the type of label you need and have some design ideas please get in touch and we will get back to you as soon as possible. We are always happy to help, so if you have any questions please do not hesitate to contact us.